About the Therapist
About the therapist:
I understand the challenges that affect the mental health of LGBTQ+ people in a world where many of our identities are denied and abused. I'm committed to offering a safe, professional and confidential space for you to share what's on your mind.  I will work with you in a supportive, kind and communicative way so that you can develop a clearer understanding of why you feel the way you do and what you would like to do next.  Accessing therapy online gives you the power to connect wherever you are on your phone, laptop or tablet. All you need is a stable internet connection and a willingness to listen to what is going on inside of you.  I'm experienced in working with issues across a broad spectrum that affect LGBTQ+ people.   Thank you for reaching out and doing the work to get this far. I look forward to meeting you!
Gender history:
As assigned at birth
Personal pronouns:
He/HIm
Qualifications - Links to websites:
Training, qualifications & experience
I am a registered member of the BACP which means I am committed to working to the highest standards of professionalism and ethics.
I have a BA (Hons) in Person Centred Counselling from Metanoia Institute in London. This is an excellent professional qualification that guarantees that I have been trained to the highest standards set by the British Association for Counselling and Psychotherapy.
I have worked with LGBTQ+ young people from Sussex and been part of the charity MindOut providing LGBTQ+ specialist counselling to adults covering trauma, addiction, gender, sexuality, neuro-difference (ADHD & ASC), anxiety, depression, CSA, health problems, sexual issues and relationships.
I can offer Ecotherapy,  rekindling your deep connection to the natural world with all its associated benefits for mental and physical health. We belong to the wider web of life and our isolation from this can be a source of profound distress. I can support you to reconnect to yourself so that you can find your way back to wellbeing.
I offer yoga, meditation and nature connected retreats and am a fully qualified yoga teacher with a 500HR Yoga Alliance certified training. I welcome your whole self; body, mind and spirit into our sessions together and will openly share my insights, where appropriate, from wisdom traditions, cutting edge neuroscience and Mindfulness that are relevant, accessible and applicable to your life circumstances.
Member organisations

Accredited register membership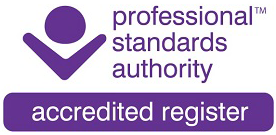 Qualifications - Additional:
| Award | Awarding body | Year of award |
| --- | --- | --- |
| | | |
| | | |
| | | |
| | | |
Experience and approach:
Hello, my name is Tom and I'm a person-centred counsellor working online and by phone across the UK & EU.  I am proud to offer professional, affirmative heartfelt therapy to all my clients.
I have worked as an LGBTQ+ specialist counsellor supporting young people and adults with charities in the third sector.
I can you offer you a warm and supportive space for exploring questions around gender, sexuality and relationships as well as other issues you might be dealing with including anxiety, depression, addiction and trauma.
You can access therapy with me wherever you are at a time and place that works for you using a laptop or phone.
I now offer therapy sessions on a weekly, fortnightly and monthly basis.
From 30 minutes to 90 minutes depending on your finances and availability.
Further information
Person centred therapy with me may be right for you if you would like to -
discuss your issues in confidence
improve your mental health
experience more self-acceptance
speak to a trustworthy professional
be valued and listened to
explore your gender or sexuality
improve your intimate relationships​
Curious about the history of the Person Centred approach? This is for you!
The person-centred approach has a sixty year plus history, developing as a response to the reductionist and deterministic approaches of existing schools of therapy. The founder of the approach, Carl Rogers, felt that in reducing people to their component parts other approaches missed something fundamental about the experience of being human. He also felt that it was neither possible nor helpful to try to be the expert of another person's experience. The approach therefore seeks a holistic view and entails both counsellor and client striving to make real human contact. It's the relationship that we create together, in collaboration, that offers a growth-full space for self reflection, revelation and flourishing.
Marginalised groups:
Ace | Asexual
BDSM | Kink
Bi- | Pansexual
Cross-dresser
Intersex
Lesbian
Non-binary | Genderqueer
Queer
Questioning
Survivors of attempted conversion therapy
Trans
Age ranges:
Adults
Seniors (60+)
Young adults (16-24)
Fees
I offer sessions on a weekly, fortnightly or monthly basis.
Sessions can be anywhere from 30 minute to 90 minutes depending on your finances and availability.
30 minute session is £30
50 minutes is £60
90 minutes is £90
Please drop me a message and we can arrange a free 20 minute introductory session to discuss your issues and how we might work together.