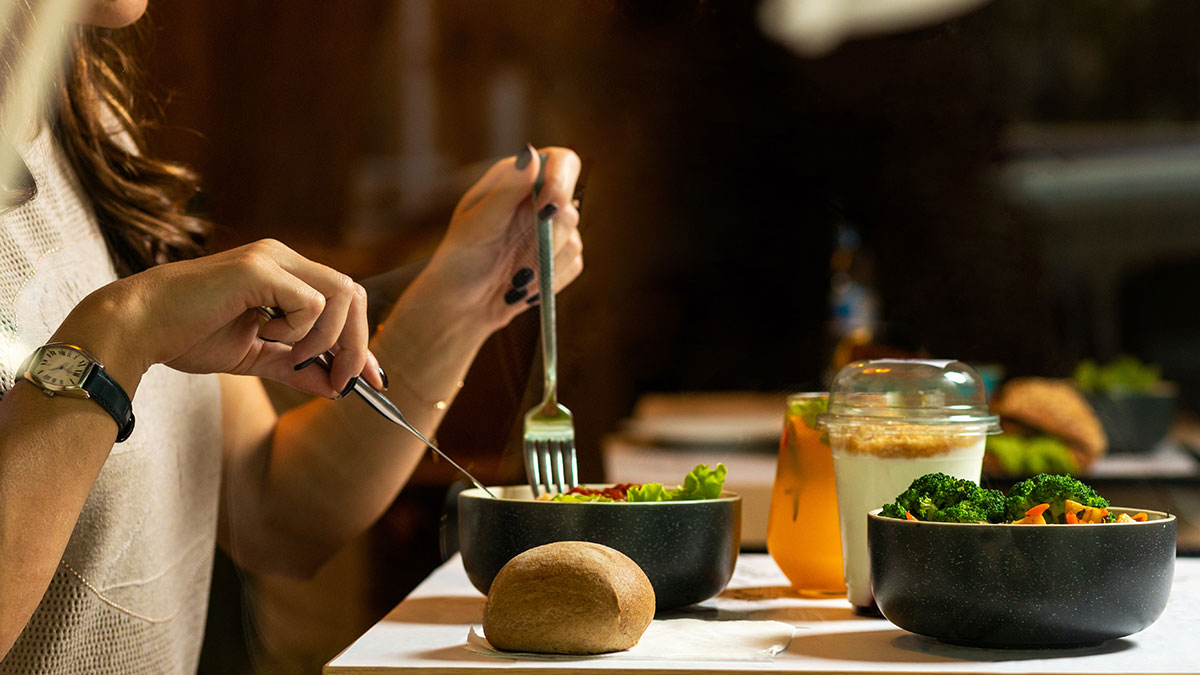 Article from withinhealth.com
LGBTQIA+ stands for lesbian, gay, bisexual, transgender, queer or questioning, intersex, and asexual. The plus represents other identities that are not clearly denoted in the acronym and reminds us that "LGBTQ"is not an exhaustive list, and in fact it encompasses a wide collection of minority genders and sexual identities. 5.6% of American adults are LGBTQ+, which is about 18 million people. (2)
Eating disorders are common in the LGBTQIA+ community. Research has consistently shown that LGBTQIA+ adults and adolescents are more likely to experience eating disorders than their cisgender and/or heterosexual peers. (1)
While the cause of eating disorders remains elusive, strong evidence suggests that genetic, environmental, and cultural influences are involved. For LGBTQIA+ individuals, there are additional factors to consider when selecting treatment options.
This article provides an overview of eating disorder treatment programs for LGBTQIA+ people and how to help those who struggle with eating disorders to find meaningful care that can lead to long term healing.
Understanding eating disorders in the LGBTQIA+ population
The LGBTQIA+ community faces more social stigma than other groups, leaving them at greater risk for developing eating disorders. LGBTQIA+ individuals with eating disorders may feel added pressure to hide their gender or sexual orientation alongside their eating disorders, due to overwhelming social stigmas and a deep fear of discovery.
The extreme stress related to the concealment of their true identities may leave LGBTQIA+ people feeling even more isolated and unsupported. Research has shown that positive, supportive family relationships may protect transgender and gender-diverse (TGD) youth from negative health risks. (1)
A lack of supportive family relationships, or worse yet overt, or covert condemnation of their true self, is a deeply painful and socially isolating experience that is hard to even capture in words.
In marginalized groups like the LGBTQIA+ community, correlated mental health conditions, including depression and anxiety, are more common. Gender and sexual minorities are at higher risk for mental health issues and depression, especially among transgender individuals. (3) This is not surprising, considering the intensity of the psychosocial stressors.

Note that the high prevalence of mental illness within the LGBTQIA+ population does NOT mean that being gay or trans or queer is a mental illness; in fact, they are definitively not mental illnesses. All major psychological associations agree that same-gender attraction and that being transgender are not mental illnesses.
LGBTQIA+ people with eating disorders: stats & trends
Historically, LGBTQIA+ individuals have not been largely included in eating disorder studies, but that is starting to change.
A 2018 survey conducted by The Trevor Project and the National Eating Disorders Association (NEDA) found that over 50% of surveyed LGBTQIA+ youth claimed to have been diagnosed with an eating disorder. (4,5) Social stigmas are also common for individuals in the LGBTQIA+ community, and depression is a significant predictor of eating disorders, especially in gay men and lesbian women. (7)
Eating disorder have a negative impact on all gender identities, and affect people of every orientation within the LGBTQIA+ spectrum. It is therefore crucially important to provide inclusive care programs that have care partners who fully understand individual challenges of LGBTQIA+ people with eating disorders.
Eating disorders may present at a young age for people in the LGBTQIA+ community. For example, adolescents who identify as lesbian, gay, and bisexual experience a higher past-year prevalence of binge eating and purging behaviors. (15) These eating disorder challenges are not, however, limited to LGBTQIA+ youth. Take, for example, the fact that approximately 42% of men diagnosed with an eating disorder identify as gay or bisexual. (15) Just as we see in cisgender, and/or straight identifying people with eating disorders, many people in the LGBTQIA+ community will battle eating disorders throughout their lifetime, which is why connecting with a compassionate care team early is so important.
Members of the LGBTQIA+ community may experience trauma-based shame at higher rates, leaving them more susceptible to mental health disorders. (8) This is one of the reasons why the clinical team at Within Health practices trauma-informed care for eating disorders.
LGBTQIA+ Eating disorder signs & symptoms
The following risk factors may place members of the LGBTQIA+ community at a uniquely higher risk for developing eating disorders: (7)
A lack of social support
A low sense of belonging
Social stigma and discrimination
Gender role conflicts
Bullying
Navigating coming out
Rejection due to gender and/or sexual orientation
Childhood or adulthood trauma or violence
Gender dysphoria or dissatisfaction
Dating app use
Steroid use and extreme body-building, especially in transitioning and transgender individuals who desire a more masculine appearance (9)
Little to no involvement in the LGBTQIA+ community
Classic signs and symptoms of eating disorders that are gender-neutral include the following:
Regular trips to the restroom
Disguising weight loss with baggy clothes
Fainting spells
Rigid eating and exercise schedules
Skipping meals or avoiding social gatherings where food is served
Expressing dissatisfaction with weight, body size, or shape
Eating in private
Swelling of face, cheeks, or jaws
Feeling cold frequently
Treating LGBTQIA+ people with eating disorders at Within
Specialized approaches to treatment are essential for all individuals with eating disorders, but especially for those within the LGBTQIA+ population. (7)
An integrated approach to eating disorder treatment ensures that each patient's unique needs and challenges are addressed, increasing the likelihood of a full recovery. Patient-centered approaches to care help build the trust and rapport necessary to ensure LGBTQIA+ patients achieve better overall outcomes.
The following treatment approaches are frequently used to support LGBTQIA+ patients with eating disorders:
Individual psychotherapy
Physicians, psychotherapists, and dietitians routinely provide individualized care for patients with eating disorders. Individual psychotherapy usually occurs following, or in addition to, a patient's participation in a comprehensive program. Therapy may include cognitive behavioral therapy (CBT), compassion-focused therapy, enhanced cognitive behavioral therapy, or interpersonal psychotherapy (IPT), among many others. Compassion-focused therapy has also been identified as a novel approach for transgender and gender non-conforming (TGNC) people. (7)
Other health care providers may also provide care to meet the many needs, including medical, nutritional and other psychosocial demands. For example, physical therapy may be necessary for patients with extreme deconditioning after severe weight loss.
Group therapy
Attending group therapy sessions is a great strategy for helping heal from disordered eating. Group therapies and connection can be powerful in creating space for the person to feel safe embracing their authentic self, while feeling a sense of belonging and connection.
At a group therapy session, LGBTQIA+ people can meet with like minded individuals within their community to share, and support each other's experiences. Group sessions will be led by a professional therapist experienced in LGBTQIA+ matters, and disordered eating as a whole. Groups work as a safe space, and may include restrictions such as only being for the LGBTQIA+ community, or specific subsections of that community. These sessions may be beneficial for those looking for a safe space to share their treatment, and recovery journey with their peers.
Multidisciplinary care
Multidimensional approaches to the care of patients with eating disorders involve a team of specialized health care professionals who offer comprehensive support. Most multidisciplinary care teams include the following members:
Physician: Manages overall medical care, including monitoring lab values, prescribing medications, and overseeing treatments.
Registered dietitian: Manages medical nutrition therapy, including correcting fluid and nutritional imbalances.
Mental health professional: Manages mental health including establishing healthy coping strategies and building strong support systems.
Specialized care professionals: Manages related disorders, including physical deconditioning and chronic conditions.
Movement specialists and yoga: Learning how to embrace your body and move your body for the sake of self care versus a form of punishment or compensation is vital to healing from an eating disorder.
Intensive treatment
Some LGBTQIA+ patients may need more intensive treatments, depending on their condition when they seek treatment. Treatments approaches may include:
Inpatient treatment: care provided in a hospital-based setting
Residential treatment: care provided in a non-hospital, facility-based setting
Partial hospitalization (PHP): PHP is a minimum of six hours a day, up to a maximum of 12 hours per day, usually five to seven days each week.
Intensive Outpatient Treatment: Care is delivered in a hospital- or non-hospital-based setting, three to five times per week.
Outpatient Treatment: Ongoing multidisciplinary care delivered in an outpatient setting, which may include groups.
Telemedicine
Telemedicine has grown in popularity over the past decade, and it shows promise for the treatment of many chronic conditions, including eating disorders. Research has shown that internet-based treatment options are effective for patients with eating disorders and may provide gender-affirming care (GAC) options for LGBTQIA+ people who do not have access to local resources. (12)
Coping strategies for LGBTQIA+ people with eating disorders
Recovering from disordered eating requires a deep healing process, the development of effective coping strategies, enhanced support systems, and individualized treatment.
Perceived social stigma is a known risk factor for depression, especially among individuals of minority gender and sexual orientation, which may require additional mental health care. (7)
Special consideration may be provided to LGBTQIA+ youth during eating disorder treatment to help address challenges during puberty and beyond when significant psychosocial and sexual development occurs.
Some LGBTQIA+ patients who have participated in treatment programs for eating disorders have reported feeling disappointed by their providers' incompetence in or ignorance of LGBTQIA+ experiences. (13) Without proper training, many clinicians are left ill-equipped to help LGBTQIA+ patients navigate the difficult landscape of social stigmas in addition to their eating disorders. At Within Health we work to train all of our clinicians to be gender and sexuality informed and are always working internally to be the best providers for all of our clients.
For this reason, it is recommended that treatment programs for LGBTQIA+ people include elements relating to body acceptance. In addition, coping strategies are recommended to help patients manage social stigmas related to gender identity, and counseling to address any traumatic life experiences that may be contributing to the disordered eating. In addition, training staff in gender competence will assist in bettering their understanding of disordered eating treatment in the LGBTQIA+ community.
Duplicated with permission from withinhealth.com